Cumbria Caravan & Motor Home Storage
R.I.Stamper Haulage Ltd, A1 Hangar, Kirkbride, Wigton, Cumbria, CA7 5JZ
Tel: 016973 51251  Fax: 016973 51999  Mob: 07795 834045 
Safe and Secure Indoor Storage for Motor homes, Caravans & Boats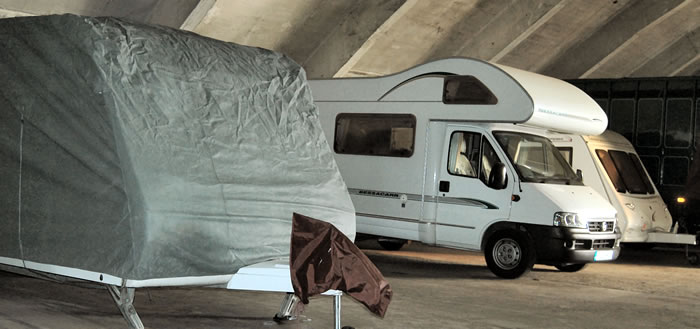 R.I Stamper Haulage Ltd of Kirkbride is a family run business which has been established since 1950 which can offer indoor caravan, motor home, boat and car storage on a long or short term basis in our secure premises.
As there is a shortage of good secure indoor caravan storage in the Cumbria area we have created a perfect solution in the perfect location by turning our aircraft hangar in to a storage facility. We are located approximately 20 miles from the Lake District, only 15 miles from the M6 and just 10 miles from Carlisle.
Access
We are able to offer flexible access to your stored caravan or vehicle with only a few hours notice during the week days. We also can provide access on a Saturday with a 48 hours notice, and Sunday by arrangement. All visitors are required to report to Reception.
Security
Our Premises offer a secure place to store your caravan or motor home as we are fully insured to accommodate them. We have C.C.T.V in place in the grounds, secure fences around the yard and hangars and on site management through out the day.
If you would like any further information or to make arrangements to look around the site please contact us on Tel: 016973 51251 or Mob: 07795 834045.
We also offer the following:

• WASH FACILITES
• DAY TIME ACCESS
• ON SITE MANAGEMENT
• VERMIN CONTROL
• 24 HOUR C.C.T.V
• ROUND THE CLOCK SECURITY
• ON SITE FIRE EXTINGUISHERS
• GOODS HAULAGE AND STORAGE
• STORAGE OF VINTAGE VEHICLES
• FRENDLY AND PROFESSIONAL SERVICE
 

Undercover Caravan and Mobile Home Storage serving Carlisle, North and West Cumbria The Lake District.